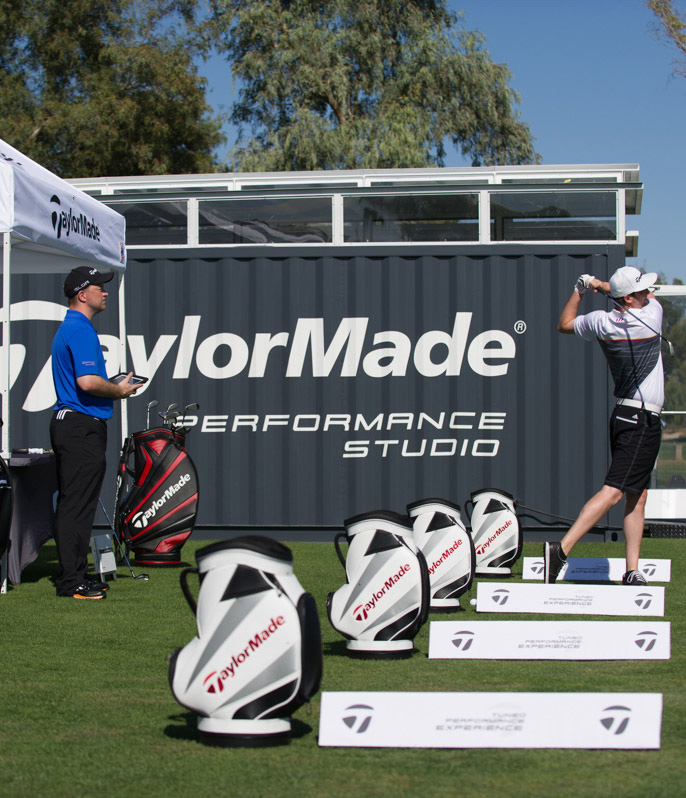 ITS ABOUT YOU
TaylorMade Tuned Performance combines art, science and technology to make the experience unique and impactful for every player. Unlike traditional "custom fitting," which focuses on enhancing a player's best shots, Tuned Performance enhances what you do well and minimizes what you don't.
Each Tuned Performance experience begins with a data-gathering discovery process designed to establish a shared understanding of the state of your game and what you aspire to – what we call Current State and Desired State. Next, our Tuned Performance Specialists analyze the data and use the latest TaylorMade equipment technologies to optimize the distance and direction of your shots.
ACTIVATING YOUR CLUBS
Our extensive player testing and R&D data demonstrates that individual players react very differently to equipment adjustments. That's why each Tuned Performance Session is an act of discovery that weighs a player's tendencies in terms of good shots, average shots and poor shots to match the equipment technologies and specifications that will best complement each individual golfer's needs.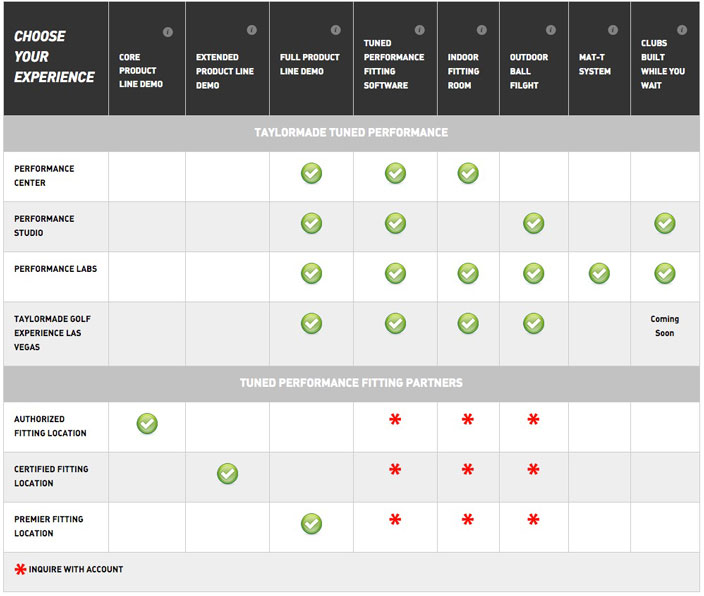 CHOOSE YOUR EXPERIENCE


EXTENDED PRODUCT LINE DEMO


FULL PRODUCT LINE DEMO



TUNED PERFORMANCE FITTING SOFTWARE


INDOOR FITTING ROOM


OUTDOOR BALL FILGHT


MAT-T SYSTEM



CLUBS BUILT WHILE YOU WAIT
TaylorMade Tuned Performance
PERFORMANCE CENTER
PERFORMANCE STUDIO
PERFORMANCE LABS
TAYLORMADE GOLF EXPERIENCE LAS VEGAS
Coming Soon
Tuned Performance Fitting Partners
AUTHORIZED FITTING LOCATION
CERTIFIED FITTING LOCATION
PREMIER FITTING LOCATION
INQUIRE WITH ACCOUNT
TUNED PERFORMANCE FITTING PARTNERS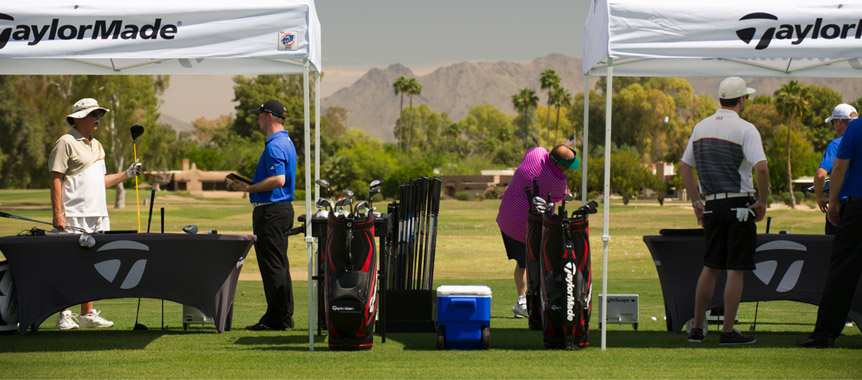 Our Tuned Performance Fitting Partners feature TaylorMade Tuned Performance Cart Technology. Originally developed by TaylorMade's R&D department to rapidly switch out demo shafts in driver- and iron-heads, Tuned Performance Cart Technology makes it possible to create hundreds of technology combinations (186 metalwoods and shafts, 258 irons and shafts), so that our Tuned Performance Technicians can arrive at the precise club specs that maximize the player's performance.
PERFORMANCE CENTER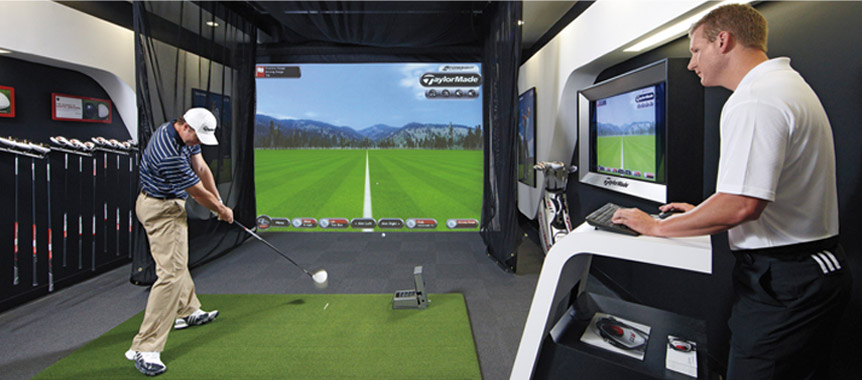 Every Tuned Performance Center is manned by multiple TaylorMade Tuned Performance Technicians trained in the use of cutting-edge fitting technologies to determine exactly which equipment models, components and specifications are right for you and your swing. Experience the benefits by scheduling a fitting today.

When you visit a Tuned Performance Center you'll be guided through our fitting process by one of our TaylorMade Tuned Performance Technicians, each of whom harbors a deep understanding of how our equipment and their technologies function. and who is trained to dial in your equipment to maximize your distance and accuracy. Whether it's a quick fitting, a swing tune-up or an in-depth fitting analysis, our experts are prepared to take your game to the next level.

Performance Center Locations:
ARIZONA
CALIFORNIA
COLORADO
CONNECTICUT
FLORIDA
MASSACHUSETTS
MINNESOTA
MISSOURI
NEVADA
NEW JERSEY
SOUTH CAROLINA
PERFORMANCE STUDIO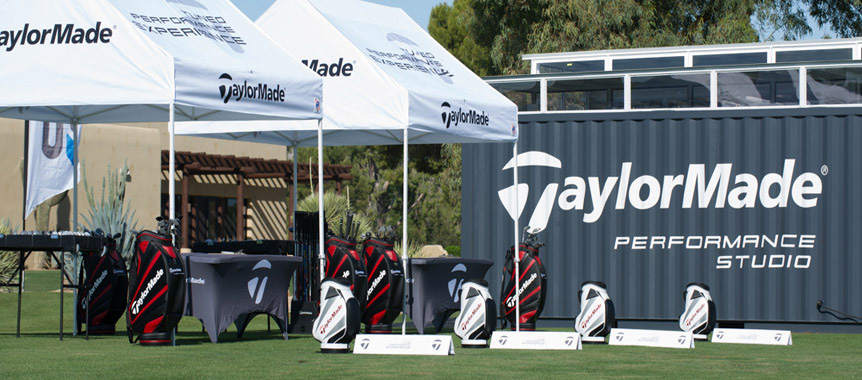 When you visit a TaylorMade Performance Studio you start with a Tour-caliber clubfitting experience that's conducted with our new, proprietary Tuned Performance fitting application, designed by our R&D department to insure that your equipment is optimized to your swing to promote maximum distance and accuracy. And when you're finished you'll have the opportunity to watch as your new clubs are created in our state-of-the-art Tuned Performance build shop.

• Experience every current TaylorMade metalwood, iron, wedge and putter.
• Watch as your custom TaylorMade equipment is built. When your clubs are finished you can use them immediately because our special curing cells complete the bond between the shaft and clubhead in minutes.
• Benefit from the expertise of Tuned Performance Technicians, each one deeply skilled at fitting, building, servicing, upgrading and adjusting TaylorMade drivers, fairway woods, Rescue clubs, irons, wedges and putters.

Tuned Performance Studio Locations:

Arroyo Trabuco Golf Club - Mission Viejo, CA (map)
TaylorMade Golf Experience - Las Vegas, NV (map)
PERFORMANCE LABS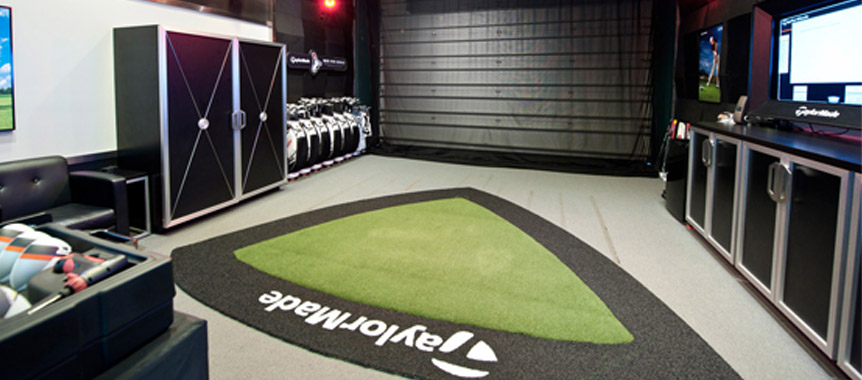 TaylorMade Performance Labs unite the golfer, fitter, and advanced technology to deliver the ultimate clubfitting experience.

The synergy between golfer, fitter, and technology lies at the heart of TaylorMade's clubfitting philosophy. Our highly-trained Tuned Performance Technicians are experts at taking in-depth swing information gathered by our cutting-edge MAT-T system and using it to determine the optimum combination of clubhead, shaft, grip, swingweight, movable weight configuration and flight control settings to optimize your performance.



Performance Lab locations:
FLORIDA
MISSOURI
TEXAS
UTAH
TAYLORMADE GOLF EXPERIENCE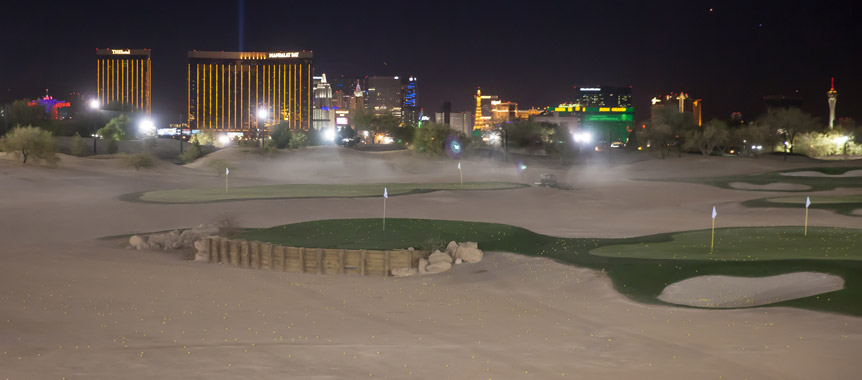 Located minutes from the Las Vegas Strip, the TaylorMade Golf Experience is a popular destination for locals and visitors alike, with two comprehensive Tuned Performance bays for fitting, a lighted range and par-3 course, a large practice area, a restaurant and a modern retail facility that carries the latest TaylorMade equipment and accessories.

While open for business, the TaylorMade Golf Experience is currently undergoing an extensive renovation and will hold a "grand re-opening" this fall, offering golfers a unique high-end / high-tech experience that combines demo, fitting, playing, practicing and retail.

The NEW TaylorMade Golf Experience will measure more 10,000 square feet in size. The structure and flow will be dramatically updated and retail space will be nearly doubled to more than 4,500 square feet. Indoor hitting bays will double and the store will be fully stocked with all of the latest products from TaylorMade equipment, soft goods and accessories, and adidas Golf and Ashworth footwear and apparel.

Play Golf:

There's nothing quite like the par-3 course at the TaylorMade Golf Experience. In addition to its spectacular view of the world-famous Las Vegas Strip, it stands on its own for fun and challenge with nine smartly designed holes, ranging from 110 to 185 yards, each with a Tour-caliber green complex. Fully lighted for night play and specially tailored to reflect the surrounding desert landscape, it's a pleasing test of both long game and short game.

Our accompanying practice range is the largest in Las Vegas, with 113 stations and your choice of hitting from synthetic or natural turf. Take dead aim at one of the five target greens strategically positioned on the manmade, environmentally friendly surface, specially formulated to receive shots like real grass while dramatically reducing the need for water in the dry Las Vegas Valley.

Our par-3 course and driving range are open for business during our current renovations. The NEW TaylorMade Golf Experience, scheduled for completion this fall, will be become a must-visit destination for golfers of every type.